Fairview Creek Project – This page will have updates to the Fairview Creek Project.
4.18.2023 COOLIDGE STREET IS NOW OPEN!
COOLIDGE STREET – 4.12.2023 UPDATE
Coolidge Street repairs are ahead of schedule, the portion from Locust St east to the bank parking lot is open for traffic! They are working on finishing touches on the section that is west of Walnut Street and it should be open soon. Then they will finish up with the section in the middle.
COOLIDGE STREET – 3.23.2023 UPDATE
The City's Contractor, Carley Construction, is scheduled to begin construction along Coolidge Street between Locust Street & Walnut Street. The work includes removal of existing brick pavement, driveway connections, and offsite storm water. Work is expected to commence on Monday, March 27, 2023.
If you have any questions, you may call one of the following contacts for the project:
Jeff Fry – Eagle Engineering – 402-699-1095
Jake Zimmerer – Eagle Engineering – 402-399-0227
City of Glenwood Public Works – 712-527-4598
Affected property owners will be contacted by Eagle Engineering individually.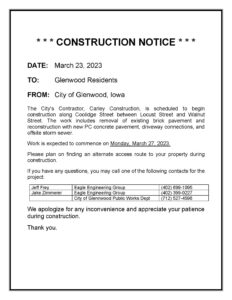 LOCUST STREET
You will see some increased activity on North Locust Street. The City was awarded a Surface Transportation Block Grant through the DOT, this grant is a 80/20 match grant. This project will include Locust Street from Sharp Street north to around North Hazel Street.  Work should be completed in FY2024. The work you are seeing now is the very first steps in getting ready to put this project out for bid.
Please click on the link below for an update on the Coolidge Street Project. The City has contacted street repairs and storm sewer installation on Coolidge Street from Locust Street to Walnut Street. As more information and definite timelines become available, we will post updates. Property owners will be notified with more information regarding definite timelines and disruptions to traffic.
Coolidge Street Repairs Update