City Hall will be closed Thursday, November 24 & Friday, November 25, 2022 in observance of Thanksgiving. Our office will reopen on Monday, November 28, 2022 at 7:30 a.m.
The City of Glenwood would like to thank Mills County Chamber of Commerce for gifting our office with a beautiful watercolor print of Glenwood. The Mills County Chamber commissioned art pieces for each town to place in their offices.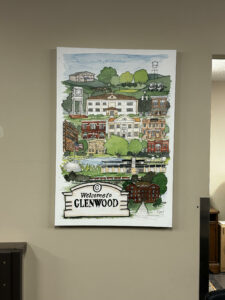 Burn Ban Effective 5:00 p.m. Thursday, October 27th, 2022. See below link for more information.
Press Release – Burn Ban 10.27.2022
Don't Miss Hiley Park Fun Fest – Friday, October 7 from 5:00-7:00 p.m.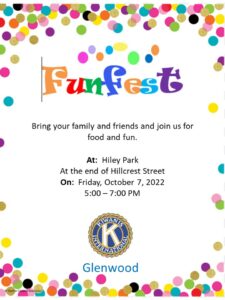 The City is applying for a CDBG for Downtown Revitalization, the grant requires us to send out a survey regarding Community Development & Housing Needs. Forms can be picked up in person at the Glenwood City Hall, Glenwood Municipal Water Department or the Library, you can download a copy of the survey HERE and email it back to jessica.alley@cityofglenwood.org or drop it off at City Hall, or fill it our at this link – https://tinyurl.com/GlenwoodCDHNA.  Responses are due by October 10, 2022.
Thank you!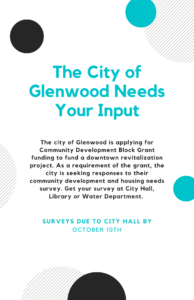 Click the link below for a list of benches that have been removed and are ready for pickup and for benches scheduled for removal. 
Park Benches Removed or Scheduled for Removal

September 1, 2022
We acknowledge that the disposal of memorial benches from Glenwood Lake Park was insensitive to the family and friends who purchased memorial benches in honor of their loved ones. The Park Superintendent and the Park Department staff has sorted out the park benches that have been removed and made a list of names as well as a list of benches that are scheduled to be removed. Both lists will be put on our website, shared to Facebook & placed in the paper. Family and loved ones will be able to pick up the benches that have been removed, or just the memorial boards. They will be given the opportunity to purchase a replacement bench, if they so choose.
While we cannot undo what was done, we want to express our apologies to the families and friends who have been hurt due to the removal of their loved one's benches without notice. Going forward a bench removal policy will be put in place, ensuring that this does not occur again.
Requests for picking up benches will be honored as first come, first serve basis. Please call Ron Mattox, Park Superintendent for pick-up of benches.
Best Regards,
Amber Farnan
Website: cityofglenwood.org
Facebook: City of Glenwood
Paper: The Opinion Tribune
Lifting of Burn Ban – 8.30.2022
Mills County lifted the burn ban. See above link for more information. You can also call Fire Chief Gray at (712) 527-4717.
Road Closure Information for the Cultivate Community event Wednesday, August 10, 2022.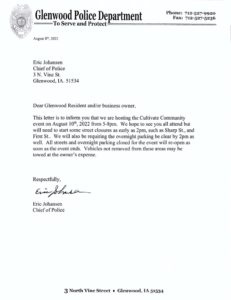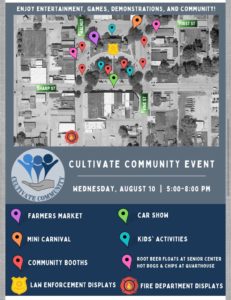 Burn Ban Effective 8:00 a.m. Saturday, August 6, 2022.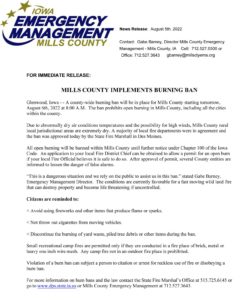 A Food Truck Ordinance passed by City Council on 7.12.2022 and goes into effect on Wednesday, July 20, 2022. All food trucks and mobile vendors will need to fill out an application and be approved to sell goods inside of Glenwood City Limits.
2022 Mobile Food Vendor – Application
Ord 919 signed – Mobile Food Vendor Regulations
Application fee – $25.00
6 Months License – $200.00
1 Year License – $300.00
Once a mobile food vendor license has been approved Mobile Food Vendors will need to abide by the regulations set forth in Ord 919. Licenses must be renewed at time of expiration each license period.
For more information, please call City Hall at 712-527-4717.
Save the Date!