News
Glenwood Municipal Utilities is seeking applications for a Maintenance/Operator Person. Duties include, but not limited to, operations and maintenance of the water and wastewater treatment facilities, sewer and water systems, machinery, equipment, and related activities.
For more information regarding this position please go to the GMU website www.glenwoodmu.com. We are an equal opportunity employer. For consideration please send your resume and application to Glenwood Municipal Utilities c/o Search Committee 7 N. Vine St.  Glenwood, IA 51534 or email to wendy@glenwoodmu.com  We will be accepting applications until 6/22/2020 at 4:00pm.
3 seasonal part-time employees are needed for summer help! Applicants must be at least 18 years of age and have a valid driver's license. Mowing and weed eating experience is preferred. See our Job Openings page for more info!
Please see the press release regarding guidance on outdoor activities during the Covid-19 outbreak form Mills County Public Health and Mills County Emergency Management.
We have had several reports of large groups of teens playing basketball and gathering at our complexes; we will be roping off our sports complexes on March 31, 2020. We will be leaving the parks open at this time for walking, running, fishing and other outdoor activities. We do ask that you keep in mind social distancing while at our parks. The hope to is to stop or slow the spread of Covid-19.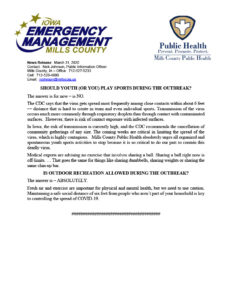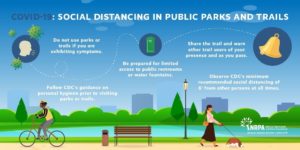 News Release 31MAR2020 Pickup sports games
Effective Wednesday, March 25, 2020 the playground equipment at Glenwood's Parks will be roped off. The Parks will remain open for walking, running, biking, fishing, and other outdoor activities. The restrooms will remain closed and water will not be turned on. If you choose to use a picnic table, please wipe it down before and after use. We have suspended park shelter rentals at this time.
Please do not congregate in groups larger than 10 people and practice social distancing while enjoying our Parks.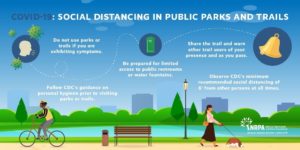 03.18.2020 – updated Library phone number on 03.19.2020
Information on City buildings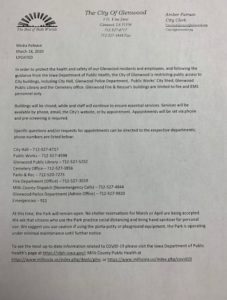 2020 Census information – you may be getting an invitation letter from the Census this week, it is important that you respond by April 1, 2020. This can be done online at my2020census.gov or through the mail. If you do not have access to the internet, the Glenwood Public Library has computers for you to use.
Data received from the 2020 Census will be used to direct monies to our community for schools, roads and other public services. It also helps determine the number of seats each state has in the US House of Representatives.
All data collected is kept confidential.
Please visit our COVID-19 page for links to COVID-19 resources – remember to call your health care provider if you have any symptoms of COVID-19 – do not go to the doctor's office.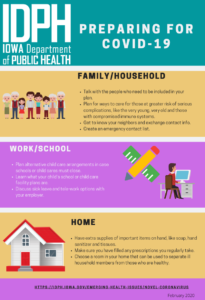 2006 Ford E-series ambulance – $9,000
Arrow Manufacturing box
Injectors replaced in May 2019
New alternator in May 2016
Brake calipers, pads and rotors replaced in July 2016
Mileage 179,264
For more information call
712-527-3019