News
Due to severe tree damage at the cemetery; and for your safety; the cemetery is closed at this time.
The Glenwood Aquatic Center opens Memorial Day; May 29 at 1pm.   Hours are 1-8pm daily; closing Labor Day weekend.  Phone number is 712.520.6219 –  Address is 500 Redbud Ave. (just north of the high school)
Family and Individual memberships and 10 day punch cards can be purchased at city hall (5 N. Vine St.) or at the pool when it opens.
Family memberships are $175 and are for immediate family members – up to 6 – additional children are $10
Single memberships are $80
For your convenience; this year  we are offering punch cards
Daily admission rates:     Adults (18 years and older)    $5.00     Punch card:  $50
Senior Citizens:  (62 years and older)  $4.00    Punch card:  $40
Students:  (22 years of age or younger with proper ID)  $3.00    Punch card:  $30
Children under age 4 are free
Party Rentals:  Contact Alexis at the pool to reserve your party.   Semi-private party (facility still open to public) 1-15 people $115 with a two hour limit and 16-25 people $150 with two hour limit
Private Party:   1-25 people  $200         26-50 people   $250    50+ people   $300  Private parties are from 8 – 9:30 pm    A late fee of $100 will be charged if party goes past end time.   A $75 deposit is required at the time of booking party with balance due 5 days prior to party.
We have openings on both the Planning and Zoning Board and Board of Adjustments.  Both are appointed by Council for a 5 year term.  P & Z meets monthly at noon on the 2nd Monday of the month (if necessary) at the Police Department.  Board of Adjustments meets on an as needed basis.  If interested and would like more information; please call Devan Hitchcock at 712-527-9920; ext. 265
01/17/2017
The City of Glenwood has openings in the following Boards:
Planning and Zoning
Board of Adjustments
Library Board
If you are interested in being on either of these boards; please call City Hall at 527-4717
Press Release
02/01/2016
For immediate release
Snow Emergency
Glenwood, Iowa (February 1st, 2016) – The Honorable Mayor Brian Tackett has proclaimed a snow emergency for the City of Glenwood, to be in effect from 12 am on Tuesday the 2nd, 2016. With this proclamation no person shall park, abandon or leave unattended any vehicle on any public street or City-owned parking lot, other than designated overnight parking areas. The snow emergency parking ban shall continue from its proclamation until the snow ceases and the roads are plowed.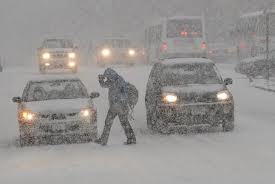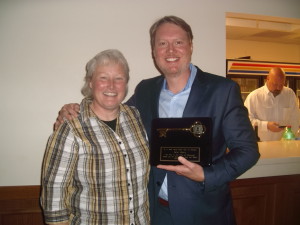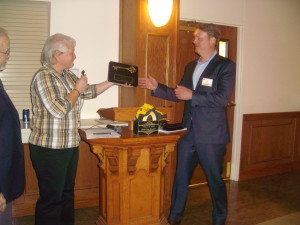 Mayor Kim Clark presented the key to the city to Don Hall during the Homecoming festivities on Saturday.  Don returned to Glenwood to be this year's Grand Marshal.  His work on the Oscar-winning "Big Hero 6" movie was the inspiration for this year's them- Heroes –
Our local food pantry had a serious shortage of items which have not been available to them by the food bank. If there  is anything you can help with please let them know.
Refried, Kidney & Chili Beans (canned)
Canned fruits — Peaches, Pears, Mixed Fruit, Mandarin oranges
Canned tomatoes — Diced, Whole, Stewed
Canned potatoes
Canned — Tuna, chicken, spam, ham, etc.
Soups — Tomato, Chicken Noodle, cream soups, Ramen soups
Hearty Soups — Vegetable Beef, Chunky Soups, Chili
Cereals — Cold & Hot Cereals
Dry Pasta — Elbow macaroni, Rotini, Bow Ties, Lasagna, Noodles
Pasta Sauces
Condiments – Ketchup, mustard, mayo, relish, bar-b-q sauce, steak sauce, salad dressings, pickles, etc.
Baking — Cake, Brownie, Muffin, Cookie Mixes and frosting, sugars, chocolate chips, etc.
Pancake Mix & syrup
Hygiene items — Children & Adult Shampoo, Conditioner, Toilet Paper
20 Mule Team Borax, Washing Soda, 4 lb. box baking Soda, Purex Crystals, bars Ivory Soap, Oxy Clean – to make laundry soap with.
Contact: Grace United Methodist Church 712-527-4607
Every can, every bottle, every package helps. Thank You!
Election Date:    November 3
Candidate Filing Period — August 24 to September 17  (this is done at the County courthouse)
Voter Pre-Registration Deadline —  Friday, October 23