News
The City of Glenwood is requesting bid proposals for debris removal at Vine Street Bridge.
Contractor shall shelve bank to reach debris and place it on the bank. Contractor shall remove all debris from the creek. Note: City will provide trucks to haul off debris to landfill.
Contractor shall restore bank to its pre-flood condition. If there is not adequate materials to restore bank, contractor shall bring in 80 ton of riprap to restore.
Note:  riprap is an alternate – bid separately.
Please mail or bring bids to City Hall – 5 N. Vine St. Glenwood, IA 51534 by 4:30 p.m. Monday, July 1, 2019.
Please contact Perry Cook at 712-520-0845 for any questions.
Rates have been set for the 2019 pool season!
Membership registration forms can be picked up at City Hall – 5 N. Vine St – Mon – Fri 7:30 am – 4:30 pm. You can also print out the membership registration from from the link on this page, please bring filled out form to City Hall. We accept cash, checks and debit/credit cards. Please contact City Hall at 712-527-4717 or email: cityclerk@cityofglenwood.org with any questions or concerns.
Family pool pass – $175.00 includes up to 6 immediate family members living in the same household, with a maximum of 2 adults; add additional immediate family members at the same address for $10.00 each. Nanny or babysitter can be added $30.00 – Children 7 & under MUST be accompanied in the water and within arms reach of a parent, guardian, grandparent or babysitter who is 16 years or older. Nanny or babysitter can only use the pass when attending with the children.
Students – $50.00 (age 5-17)
Adults – $75.00 (age 18 & older)
Senior Citizen – $65.00 (62+ years)
YMCA (active)  members receive $10 discount off single pass or $15 discount off family pass – must show proof of active status
Military (Active or Retired) $20 discount off of single or family pass
Single Day Admissions
Adults (18+ years)  – $5.00
Senior Citizens (62+yrs) – $2.00
Students (ages 5-17) – $3.00
Children 4 years & younger  – No charge
Daily Adult Swim 12 pm – 1 pm Monday through Friday
Adults only (18 & older) $2.00 – Y members free
SUNDAY FAMILY FUN DAY: Every Sunday (up to 6 in family) – $15.00
POOL MEMBERSHIP REGISTRATION FORM
The City of Glenwood is looking for seasonal part-time employees for our Street Dept and Park Dept. Duties would include mowing, weed eating and other outside work. If interested please call City Hall at 712-527-4717.
Saturday, April 27, 2019 – 10:00 a.m. – noon at Hy-Vee Pharmacy in Glenwood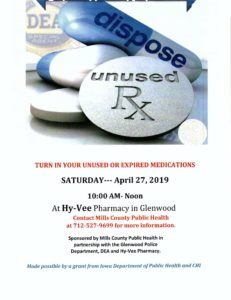 The City of Glenwood Parks Department is seeking a part-time seasonal recreational employee, mowing and recreational maintenance.
Applications can be picked up at City Hall 5 N. Vine St. or requested via email cityclerk@cityofglenwood.org.
Applications must be submitted by 4:30 p.m. on April 19, 2019. EOE
The City of Glenwood Street Department is looking for a part-time seasonal worker. Applicants must have  a valid driver's license & high school diploma. Mowing/weed eating experience preferred.
Applications can be picked up at City Hall 5 N. Vine Street or requested via email cityclerk@cityofglenwood.org.
Applications must be received by April 19, 2019 by 4:30 p.m.  EOE.
If you are willing to volunteer, please click the link below to sign up for volunteer opportunities:
https://m.signupgenius.com/#!/showSignUp/8050d45aead2ea3fe3-mills
Frequently Asked Questions About Boil Water Advisories
(Residential)
Why do I need to boil my water?
During a "boil water advisory", tap water is not safe for drinking and must be boiled. Boiling kills bacteria and other organisms in the water.
How can I make my water safe?
During a boil advisory, either use bottled water or bring all tap water to a rolling boil for one minute, and then cool before using. Water should be stored in clean plastic containers and water coolers made of heavy opaque plastic with tight fitting screw lids.  Avoid the use of used milk jugs, juice containers, sports bottles, etc.
When should I use boiled tap water or bottled water?
Boiled tap water or bottled water should be used for drinking, making ice, brushing teeth, washing fruits and vegetables, baby formula, coffee, and food preparation until further notice. It is also recommended that you wash your hands using soap and either bottled water or boiled tap water.
Can my family take showers or baths with tap water?
The water may be used for showers and bathing as long as no water is swallowed.  It is recommended that children be given a sponge bath using bottled water or water that has been boiled. People with open wounds or who are immune-compromised should avoid showering or bathing in contaminated tap water.
Can I wash dishes using tap water?
Dishes and utensils should be washed using bottled water or water that has been boiled.
Can I give my pet tap water?
Pets are not normally affected by the same diseases as humans, however caution would suggest giving pets bottled water or boiled tap water.
What if I operate a restaurant?
When a "boil water order" is issued by the DNR, the Iowa Department of Inspections and Appeals (DIA) requires that precautions be taken by all food service establishments in the affected areas.  For more information about the operation of food service establishments during a water boil order, please contact DIA's Food and Consumer Safety Bureau at (515) 281-6538.
Other questions?
General guidelines on ways to lessen the risk of infection by microbes are available from the EPA Safe Drinking Water Hotline at 1(800) 426-4791.
Information provided in part by: DNR