News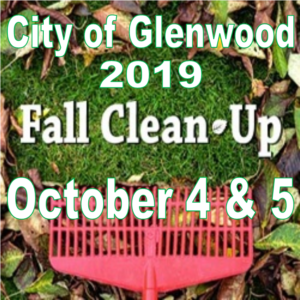 Fall cleanup is this weekend – October 4 & 5, 2019. Items can be dropped off behind the city ball field on Vine Street. Open from 9 a.m. – 6 p.m. on both days. Open only to City of Glenwood residents, ID's will be checked at drop off.
Accepted Items:
Household trash
Major appliances – limit of 3
Lawn & household furniture
Toys
Bikes
Clothes
Lawn mowers
Grills
Mattresses
Cement
Tree branches less than 6 inches in diameter
Computers – CPUs only – no monitors or TVs
Unacceptable Items:
Vehicles and large auto parts
Boats
Paint
Oil
Medical waste
Explosive materials
Hazardous liquids/materials
Human/animal waste
Tires
Televisions/computer monitors
The City of Glenwood will be testing their sirens Tuesday, September 24, 2019 at 10:00 a.m. weather permitting. We will have a technician on site at the siren that is malfunctioning.
NOTICE OF PUBLIC HEARING ON LOAN AGREEMENT IN A PRINCIPAL AMOUNT NOT TO EXCEED $1,630,000
(GENERAL OBLIGATION FIRE EQUIPMENT)
The City Council of the City of Glenwood, Iowa, will meet on the 5 day of August, 2019, at the City Hall, Glenwood, Iowa, at 5:30 p.m., for the purpose of holding a public hearing on entering into a loan agreement (the "Loan Agreement") in a principal amount not to exceed $1,630,000 for the purpose of paying the cost, to that extent, of acquiring equipment for the fire department, including a ladder truck, ambulance and related items.
The Loan Agreement is proposed to be entered into pursuant to authority contained in Section 384.24A of the Code of Iowa and will constitute a general obligation of the City.
At that time and place, oral or written objections may be filed or made to the proposal to enter into the Loan Agreement.  After receiving objections, the City may determine to enter into the Loan Agreement, in which case, the decision will be final unless appealed to the District Court within fifteen (15) days thereafter.
By order of the City Council of the City of Glenwood, Iowa.
Amber Farnan
City Clerk
Glenwood Municipal Utilities
7 N. VINE ST.
GLENWOOD, IOWA 51534
PHONE # OFFICE 712-527-4868 or PLANT 712-527-4621
Position:   WATER/SEWER TRAINEE MAINTENANCE OPERATOR
Department: WATER AND SANITARY SEWER – PRODUCTION
& DISTRIBUTION
Supervisor:   UTILITIES SUPERINTENDENT
Status:           FULL TIME POSITION
Requirements: This candidate must possess a minimum of a High School Diploma or GED, must have or obtain an Iowa DNR Grade 1 Water Treatment and Grade 1 Water Distribution certification immediately upon fulfilling Iowa's eligibility requirements or the ability to achieve these within 6 months of offered employment. Additionally, a Class B Commercial Driver's License with tanker and air brake endorsements will be required within 6 month probationary period. Post-offer, pre-employment physical and drug screen will be required.
Job Salary and Benefits:
Starting salary –$36,420.80 annually (minimum) or based on certifications.
Overtime possible.
6 month probationary period.
40 hour work week with 1/2 hour lunch break and two 15 min. breaks.
Uniforms provided by Department after probation.
Paid single health insurance for employee / cost share for family.
Paid dental insurance for employee/Family dental at employees expense.
Paid life insurance for employee/voluntary life at employee expense.
Vision Insurance at employee expense.
10 Paid Holidays.
Vacation after one year.
Sick leave accrued.
IPERS retirement plan.
Policies & Schedule Hours:
Policy Manual will be furnished upon employment.
Normal hours – 7:30 A.M. to 4:00 P.M. Monday thru Friday with rotating weekend and on-call schedule assignments.
Emergency call in's possible
30 minute routine response time to report to work
Job Advancement:
Minimum requirements in State of Iowa water certification treatment & distribution programs with cross certification in wastewater system.  Advancement with each upgrade and Glenwood Municipal Utilities merit raise system.
Job Functions and Job Descriptions:
Training / Duties – to include but not limited to the following:
Provide a safe and potable drinking water product to the consumers
Provide safe and sanitary disposal of waste product from the consumers.
Operate and maintain the water and wastewater treatment facilities.
Operate and maintain the water and sanitary sewer systems.
Conduct on site laboratory water and wastewater analysis.
Grounds maintenance and Janitorial duties.
Physically able to lift minimum of 50 pound units.
Safely transfer and distribute treatment chemicals.
Operations and maintenance of small to large equipment and machinery.
Operations and maintenance of small to large vehicles.
Mechanical and Electrical knowledge helpful.
Meter reading.
Ability to communicate with customers.
The City of Glenwood is requesting bid proposals for debris removal at Vine Street Bridge.
Contractor shall shelve bank to reach debris and place it on the bank. Contractor shall remove all debris from the creek. Note: City will provide trucks to haul off debris to landfill.
Contractor shall restore bank to its pre-flood condition. If there is not adequate materials to restore bank, contractor shall bring in 80 ton of riprap to restore.
Note:  riprap is an alternate – bid separately.
Please mail or bring bids to City Hall – 5 N. Vine St. Glenwood, IA 51534 by 4:30 p.m. Monday, July 1, 2019.
Please contact Perry Cook at 712-520-0845 for any questions.
Rates have been set for the 2019 pool season!
Membership registration forms can be picked up at City Hall – 5 N. Vine St – Mon – Fri 7:30 am – 4:30 pm. You can also print out the membership registration from from the link on this page, please bring filled out form to City Hall. We accept cash, checks and debit/credit cards. Please contact City Hall at 712-527-4717 or email: cityclerk@cityofglenwood.org with any questions or concerns.
Family pool pass – $175.00 includes up to 6 immediate family members living in the same household, with a maximum of 2 adults; add additional immediate family members at the same address for $10.00 each. Nanny or babysitter can be added $30.00 – Children 7 & under MUST be accompanied in the water and within arms reach of a parent, guardian, grandparent or babysitter who is 16 years or older. Nanny or babysitter can only use the pass when attending with the children.
Students – $50.00 (age 5-17)
Adults – $75.00 (age 18 & older)
Senior Citizen – $65.00 (62+ years)
YMCA (active)  members receive $10 discount off single pass or $15 discount off family pass – must show proof of active status
Military (Active or Retired) $20 discount off of single or family pass
Single Day Admissions
Adults (18+ years)  – $5.00
Senior Citizens (62+yrs) – $2.00
Students (ages 5-17) – $3.00
Children 4 years & younger  – No charge
Daily Adult Swim 12 pm – 1 pm Monday through Friday
Adults only (18 & older) $2.00 – Y members free
SUNDAY FAMILY FUN DAY: Every Sunday (up to 6 in family) – $15.00
POOL MEMBERSHIP REGISTRATION FORM
The City of Glenwood is looking for seasonal part-time employees for our Street Dept and Park Dept. Duties would include mowing, weed eating and other outside work. If interested please call City Hall at 712-527-4717.
Saturday, April 27, 2019 – 10:00 a.m. – noon at Hy-Vee Pharmacy in Glenwood